457th Mass Shooting of the year, December 6, 2019, Pensacola Florida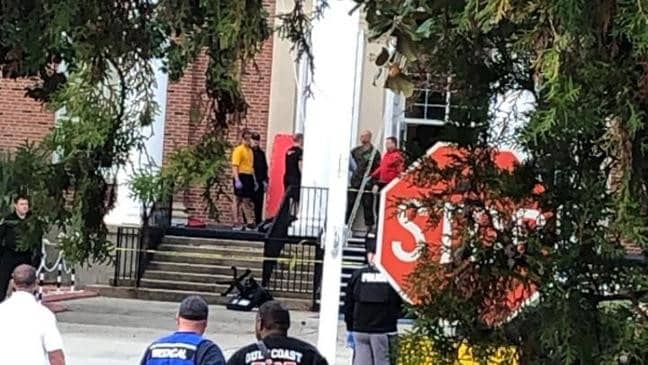 Another Serviceman with a gun kills multiple people and wounds even more.These are real stories of real people that are killing Americans everyday, and the only thing spokesmen for the local law enforcement can say is "these things rarely happen here", "we never thought this could happen"  as if they aren't aware of these same type of incident happening all across the country of America on a daily bases.This Marks 457th Mass Shooting of the year and the FBI is still clueless on how to prevent mass shooting.We have heard the same response  from the media and top ranking government officials in reference to all the mass shooting that have taken place in America for the Last three decades. All the money that is being spent to provide larger police presence in the areas where mass shootings  have already taken place  hasn't prevented a single  mass shooting from occurring. We as a people need to wake up and take accountability for not being kind enough to one another. Incivility is putting everybody's life in jeopardy. Majority of Americans wake up everyday and drive or take public transportation to work and along their paths theres absolutely nothing that reminds them about the importance of civility, absolutely no billboards , window decals, or anything on federal, state or local property promoting the importance of living in harmony , We need to hold every business accountable for not promoting civility enough in the country were they do business. Their needs to be a mandatory law that taxes every company doing business in America and the money shall go towards promoting civility. In every government building, every Public and private learning institution there needs to be visible window decals, and billboards promoting the importance of living in Harmony. the millions of men, women and children who are incarcerated or being detained through our justice system should have to take mandatory courses about the importance of civility upon being released back into society.
For over two decades the Lives In Harmony organization has offered their knowledge and expertise on how to prevent Unnecessary Acts of Violence, reaching out to major corporations through the U.S and have been turned down by major Corporations Like Starbucks, LAPD, 24hour fitness, L.a Fitness, CVS Health, Walmart, Simon Property Group, Inc. owner of  majority of the malls in the US.
The united States of America public schools don"t even teach Civility courses to a generation of kids who are being exposed to violence . Wake up People, please.
Support Civility Awareness by Donating to the Lives In Harmony organization, working to prevent unnecessary acts of violence.
About Author