563rd mass shooting of 2023, Greenville, North Carolina on October 24th.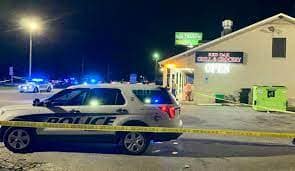 "This was a conflict between these two groups that's been boiling over for the last couple of days, maybe for a week or so. The altercation should've been easily resolved peacefully through dialogue but ended in gunfire and the lost of life and leaving other innocent bystanders with life altering injuries.
This is another case where our schools have failed us. The schools that most of the teens involved in this shooting attend don't offer civility awareness courses. Our kids aren't taught the importance of taking responsibility for their actions, never taught the importance of resolving disputes, conflicts and altercations peacefully through dialogue, could save lives. Nothing in the schools curriculum prepared these teens from making the ultimate mistake and thats taking another person's life. Now the teens that were apprehended are facing life in prison.Everybody lose, the people that committed the crime. The person that died, and his family lose.All the people that were injured and the people that witness the incident lose as well. All this could've easily been prevented if our schools taught our kids the importance of living in harmony with others, first.
Promote Civility Awareness by donating to Lives In Harmony.
About Author