67th mass shooting of 2023 Michigan State University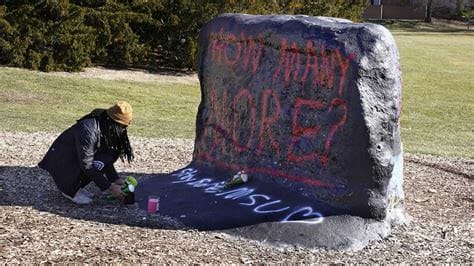 Are you tired of hearing Why.Well me too. The 68th mass shooting in 44 days and now everybody wanna know why. Not me.I've been researching, writing and reporting about people using excessive anger as a means of solving issues for over 20 years. All scientific data points to the accessibility of Guns and our beloved educational systems Public and  private.
America has a culture of violence thats has existed since its conception and now that weapons are accessible to almost every American in and around the country. The violence is ongoing and has reached levels where people who would never dream of owning a gun is applying for concealed to carry licenses, which I think is only gonna increase gun violence. Our supposedly great educational institutions from Pre-K to University level haven't and aren't doing enough to deter people from resolving issues violently , nothing in the curriculum of 98 percent of the homes and schools in America  teaches kids, teenagers and adults anything about civility or how to get along with others, how to overcome difficulties without using violence or basic things like taking responsibility for your own actions. The older generation of Americans are terrified, and the younger generation is becoming more bold, duplicating and replicating unnecessary acts of violence. Now that this generational affect of violence has been going on for the last 20 years and millions of lives are being negatively affected by these senseless acts, could we please stop using mental health as a scapegoat.  And if mental health is the problem does America even have qualified professionals to  properly address the issues. The Answer is NO, most of American Universities Ignored simple human rights issues for decades, like segregation.
Princeton University: According to records in the Princeton University Archives, the first African American student to receive an A.B. from Princeton University was John Leroy Howard in 1947, thats 196 years after is was founded.
Columbia university :  in 1877 James R Priest was the first black student allied to enter Columbia university, 123 years after it was founded
1850: Harvard Medical School accepts its first three black students, one of whom was Martin Delany. But Harvard later rescinds the invitations due to pressure from white students.
1865: Before the end of the Civil War, approximately 40 blacks had graduated from colleges and universities, all of which were in the North.
1870: Harvard College graduates its first black student, Richard Theodore Greener, who goes on to a career as an educator and lawyer. After graduating from Harvard, Greener becomes a faculty member at the University of South Carolina. He is the first known black to be hired to the faculty of a flagship state university.
1872: John Henry Conyers is the first black student to enter the U.S. Naval Academy in Annapolis. A year later he resigned after having academic troubles.
1876: Edward Bouchet becomes the first black to earn a Ph.D. at an American university. He receives his doctorate in physics from Yale.
MIT: 1892 Robert R Taylor was the 1st black student to graduate from MIT.
About Author