America Black youth obsession with guns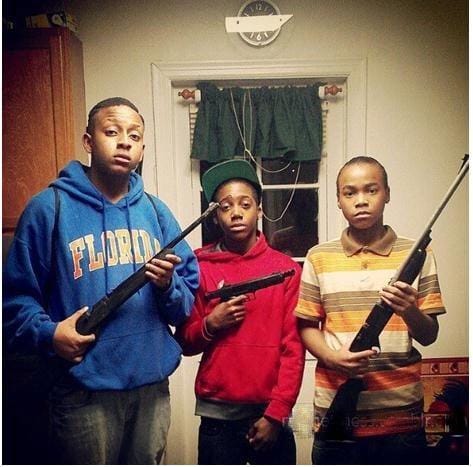 Majority of the daily shootings happening in and around the third largest city in America, Chicago are committed by black youth. No one knows who they're getting these weapons from and no one knows how many guns are circulating through the hands of the nearly hundred thousand black youth living in and around the Chicago area.But what we do know is how much damage the weapons are causing. You don't need to be a rocket scientist to know that somebody with  access to a lot of weapons has made it easy for teens to ascertain guns. Usually when this is the case, someone who has political ties to governmental officials and law enforcement has a hand in it. In 1988 Oliver North, a convicted, retired United State Marine Corp Lieutenant Colonel along with former President Ronald Reagan knowingly distributed millions of tons of cocaine and heroine throughout the U.S.A. It wasn't until decades later we would see the devastating affect it had  on low income communities. Families and , neighborhoods were totally destroyed.Millions of Black men and woman were incarcerated and sentenced to long prison terms, the kids were left and raised without fathers uncle's and any other role model that could steer them in the right direction. Kids were left to raise them selves without having any history or knowledge of themselves. Now Incivility rules in all of U.S.A major cities.
Kids and young teens are suffering from all types of Mental illnesses like Loneliness, Depression and  Social isolation. The sad thing about it is, they don't even know it. DCFS "Department of Children and family Services" aren't educated or skillful enough to help the kids.  So they recommend kids be sent orpanaga's were they are drugged repeatedly until they reach the age to self discharge.
  DONATE
Your generous contribution will enable us to keep fighting to end incivility and stop unnecessary acts of violence in your community and around the world.
About Author