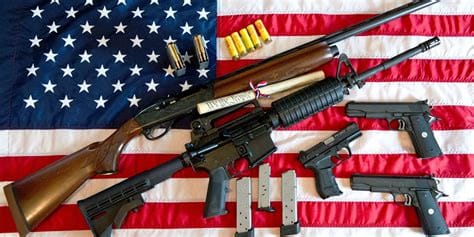 America's Prosecutors
American criminals are becoming more impertinent, heartless and straight forward. Hundreds of gun violence innocents happen on a weekly basis throughout America. This much gun violence hasn't been perpetrated and replicated since Slavery, thats when white men with guns were shooting and killing any and as many black  people as they wanted without having the worry of being prosecuted. I know we're living in different times of history but the root of the problem is the Same. Prosecutors hands are tied. Fully aware that 90% of elected officials have knowingly, set the American Government up for failure.
 

Greed

The U.S.A sales and manufactures more guns then any other nation on the planet earth, and thats a fact. Over 50 million guns were manufactured in 2019, which means every 2.4 seconds a gun was made for sale. From 2012 thru 2019 over 73 millions  Guns were reported sold by licensed gun manufactures operating in the U.S.A .These numbers show that there's enough guns already manufactured to arm every person living in America.This is being done intentionally, because the U.S government is fully aware.
 

What you expect

More Law  enforcement officer being shot is suppose to  happen, stop acting surprised, this is all planned, think about it. In the early 1980's white America was lobbying for  more opportunity to own weapons, most were using the phrase "Hunting" as an excuse to own more weapons. Nobody every questioned the type of guns that people with hunting license were requesting, which were  assault rifles and fully automatic guns. Somehow white politicians got laws past that allowed unhealthy mentally disturbed men and women the ability to purchase deadly weapons. This went on for about a decade. Combine this with the drugs That were transported from Columbia and other foreign countries Then dumped into urban areas by who else, White Men. I say this because black people didn't own private planes or ships at the time. Once the drugs reached  poor communities and people became addicted, Drug wars started and the demand for weapons skyrocketed. Presidents, Ronald Reagan, George Bush 1, 2  and Bill Clinton Knowingly ignored the  escalating cases of people using gun/violence to resolve issues that should  be easily peacefully resolved. We must not forget how are national broadcasting news stations attributed to the gun violence that we are currently witnessing CNN, FOX, NBC, ABC, and CBS all of the networks are part of the problem. They rarely report on Gun  manufacturing in the U.S.A unless a Law enforcement officer is killed. Which is usually 2 or 3 times a year, until recently.
 

The Chickens have to come home

 

roost

The lack of dialogue and late recognition of the mental health issues of Americans and if you attach that to the long history of racism, inequality, injustice and wealth gap. Sooner or later what we are witnessing was bound to come into fruition. deadly shootings happening daily, Little kids and other innocent people dying daily from gun violence, Police officers shooting people and getting killed themselves. Incivility has become an epidemic, that is negatively affecting every human on earth. Families and communities are being destroyed by this unacceptable behavior that is being replicated and practiced amongst our youth and young adult population. People are using violence as a means of solving issues, that can easily be resolved peacefully. These act's of violence are taking place in homes, schools, places of worship, places we work, fitness centers, theaters and other places we entertain ourselves, negatively affecting people from all different backgrounds. The increase of gun violence should be viewed as life-and-death warning.Most of us are wondering , where is the next one gonna take place. 

 
About Author