Ten mass shootings over the weekend of April 14th thru16th 2023.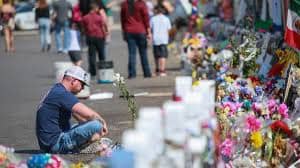 Eleven people are dead and 46 other people were wounded over the weekend after ten mass shooters from ten different states within the U.S. The unnecessary acts of violence continues  to be replicated and duplicated by teens and young adults causing havoc for hundreds to thousands of people . This has been one of the most deadly weekends of 2023 thus far.
The weekend of Friday, April 14th started with a mass shooting at Gas station in Kanasa City Missouri at around 8:21 pm. Gun shoots ranged out  and after the smoke cleared  four people were left within shot wounds and life changing injuries and one person was announced dead.
https://www.kmbc.com/article/one-dead-four-hurt-in-kansas-city-shooting/43606311
Just few Hours later  a fight broke out at Bar in Phoenix, Arizona  that escalated into gunfire leaving four People with near deaf injuries including a security Guard who worked at the bar. The bar don't have billboards or window decals promoting civility awareness.
https://www.abc15.com/news/crime/four-hurt-in-shooting-outside-of-bar-near-43rd-avenue-and-indian-school-road
Later that Saturday evening gunshots ranged out at an intersection in the South ward of Newark, New Jersey 1 person was announced dead and three other people barely escaped death.
https://www.rlsmedia.com/article/update-mass-shooting-leaves-1-dead-3-injured-newarks-south-ward
An  hour and 1/2 later in  West Oahu, Hawaii Gun shots were fired at a chicken fight, leaving family members Gary and Cathy Rabellizsa dead and three other with life changing injuries.
https://www.hawaiinewsnow.com/2023/04/17/this-is-someones-father-somebodys-kid-loved-remember-2-killed-west-oahu-shooting/
Early Saturday Morning 6 people were gunned down on the corner of Madison Avenue and 10th Avenue in Paterson, New Jersey. Nobody died but all victims were left with severe injuries.
https://patersontimes.com/2023/04/15/8-people-shot-in-paterson-overnight-authorities-say/
Later Saturday afternoon April 15, in Northridge, California a  60 year old man who was part of a group painting over gang graffiti was shot and killed after being hired to remove gang signs from outside a business. The shooter was a gang member who had recently placed the gang signs on the building. Three other people were shot by the same shooter, barely escaping death.
https://www.msn.com/en-us/news/crime/man-arrested-in-northridge-drive-by-shooting-that-left-1-dead-3-injured/ar-AA19Y6td
Saturday Night April 15th in Louisville, Ky  shots were fired into a crowd of people in Chickasaw Park killing two people and leaving three other with gun shot wounds.
https://www.wave3.com/2023/04/16/lmpd-2-dead-least-4-injured-after-shots-fired-into-crowd-chickasaw-park/
Saturday night Dadeville, Alabama a mass shooting broke out at a crowded sweet 16 birthday party. Four people were gunned downed and killed and 20 other people suffered gunshot wounds, hundreds of other are suffering from mental helots issues.
https://www.bbc.com/news/world-us-canada-65298018
Sunday afternoon Four people were shot during Burke County block party hundreds of other barely escaped injuries.
https://www.wrdw.com/2023/04/17/4-injured-after-block-party-shooting-burke-county/
Sunday Afternoon 10 shots rang out from multiple spots in Biloxi, Mississippi near surf style. Five  people were shot including a police officer, and dozens of others barely escaped death.
https://www.fox8live.com/2023/04/16/officials-scene-following-shots-fired-near-surf-style-biloxi/
About Author